This list of easy banjo songs will help if you're overwhelmed and don't know where to start your Banjo Journey.
Why this list is important?
if you start on songs that are too difficult, you'll only end up discouraged. In addition, some songs aren't common repertoire, so, if you learn an uncommon song, it's possible no one else will know it.
The list of banjo songs for beginners includes songs that I've heard at jam sessions numerous times through the years, or they're songs in the public domain that a great deal of your audience will recognize and can sing along with. Ok, here are the easy beginner banjo songs.
---
Best banjo songs for beginners:
Please notice that the majority of these songs have words, and most aren't fast bluegrass instrumentals. If you start with songs you can hum or sing, the rhythm is much easier than something that's purely instrumental. Singing the words along to what you are playing will greatly help you keep your place.
---
CRIPPLE CREEK
Cripple Creek is often one of the first songs beginner banjo students learn. I personally usually teach this as the 3rd-4th song because in my opinion, there are a few that are a bit easier to begin with. However, you certainly want to learn this bluegrass classic.
Something that might help you with Cripple Creek-Many use the Earl Scruggs (or Roy Clark) versions as their model or tab; yet, the song actually has lyrics and used to be sung. I recommend getting some slower versions where people are singing the melody to get it in your head.
Here is Stringbean playing a clawhammer version (Rather fast I might add!). Why this version? So you can hear the words and melody really clear.
BANJO IN THE HOLLOW
Banjo in the Hollow is one of the easiest banjo songs to learn. Now, before you listen to this one, understand you DO NOT have to play it this fast. Structurally the song is quite repetitive. It only requires you know three basic banjo chords. It also makes for an easy introduction into your first melodic banjo style lick. Banjo in the Hollow is a fun banjo song to learn your forward-reverse rolls with.
The great Doug Dillard Playing it:
I'LL FLY AWAY
"I'll Fly Away" is a great example of play the words. It's a three chord song and only requires an alternating thumb roll, forward-reverse, and forward roll to play. I teach this to my beginner banjo students all the time. The only thing making this a bit more difficult than a song like "Cripple Creek" is the fact it is longer.
Here is Sonny Osborne's version, one of my favorites. Notice how you can hear the tune.
Click images to play videos in Lightbox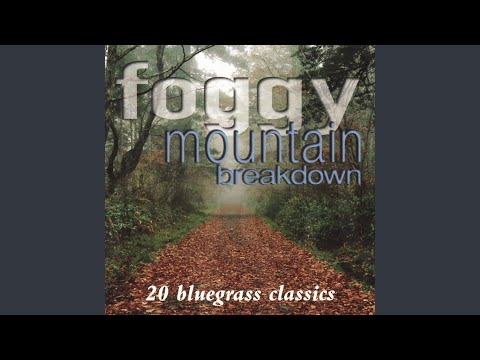 WILL THE CIRCLE BE UNBROKEN
Will the Circle be unbroken is an easy to learn beginner banjo song; most people have heard this in their lifetime, the melody is easy to sing, and quite memorable. This is a three chord song-from a roll perspective, it shouldn't present any challenges.
Here is a Teaching Video by one of youtube's banjo teaching favorites. This is a great song to learn use those FORWARD ROLLS on. I'll often demonstrate to students that I can play the entire song using almost nothing but forward rolls.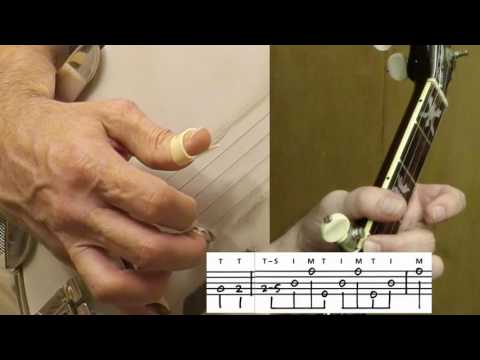 OLD JOE CLARK
Old Joe Clark is similar to "Cripple Creek" in form. It's a typical fiddle tune in that it has two sections, each 8 measures in length. The way I teach Old Joe Clark uses what I call the "Doug Dillard Roll", aka 1215 (The roll Doug Dillard uses the famous bluegrass song Dooley). If you know an alternating thumb roll, forward roll, and the Doug Dillard Roll, you can learn this one in a hurry.
Here's a Vocal version of OLD JOE CLARK. Yes, Most of these old folk tunes have lyrics. Keep in mind, Old Joe Clark is often played in the key of A, so break out those capos.
---
WILDWOOD FLOWER

Wildwood Flower is another one of those bluegrass & oldtime classics you HAVE to know. The big question is key of C or Key of G? I have taught it in both keys; however, for jams, I've found that the key of C is the most common key to play this in. I also use this as an introduction to playing in something besides G. In the key of C, this song will contain C-G for the A section and C-F-G for the B section.
I was familiar with this song early in my bluegrass journey because it was my grandmother's favorite song and she kept telling me, "Learn that song!"
Here is a 2-finger version for you (the jam is a bit noisy but you get the idea). The simpler the version you use for your model when learning these songs, the better. Go back to the Carter Family version as well.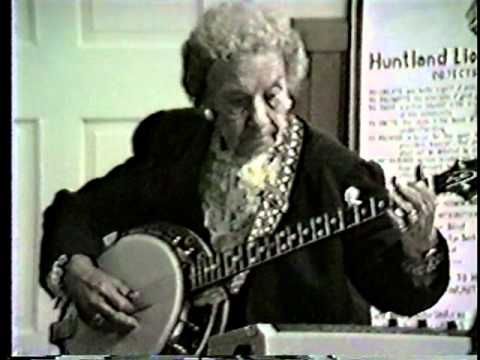 ---
SHADY GROVE
Shady Grove is a simple banjo song that's perfect for the new banjo student. In this recording there is no banjo (Sorry!). However, I do like this version as it's pretty easy to hear the tune. Jerry and David Grisman bust a great version. I'll say, it's a bit faster than I normally play it myself. Key of D minor. You only need to know TWO CHORDS to play this cool banjo song; Dm and C.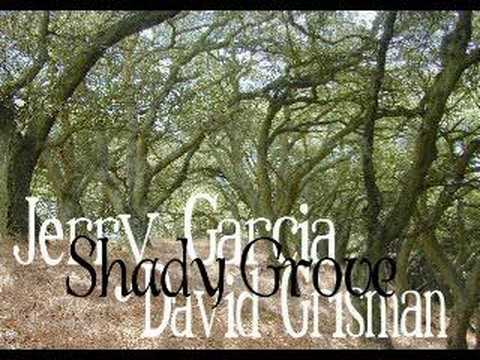 WHEN THE SAINTS GO MARCHING IN
Here is a cool Lester Flatt & Earl Scruggs version of "When the Saints Go Marching In." You don't have to play it like Earl Scruggs to get the melody. I have an easy banjo TAB arrangement on my website here. Once again, this is a song most people have heard, so rather than learning how a song goes AND trying to learn it on an instrument, you will already have the tune in your head. Yes! Another three chord song!
NINE POUND HAMMER
Nine Pound Hammer is what I call the Bluegrass National Anthem. This is because you will hear it at every single jam session. It is a must know and you might as well learn it ASAP. The way I teach it, you only need an alternating thumb roll and forward roll; quite doable in the first two months of lessons.
Here is a free banjo lesson video via youtube. I also have a Super easy, 2 finger banjo tab arrangement on my site here.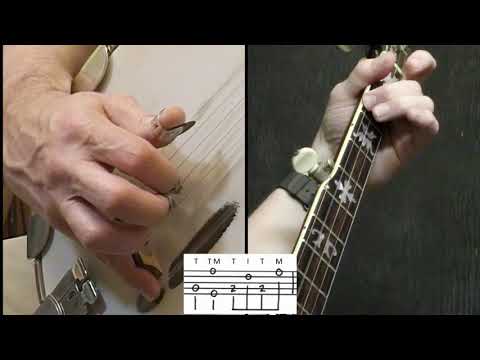 WAYFARING STRANGER
A really cool version of Wayfaring Stranger by Tim Erikson (With some great Acoustics!). This is a clawhammer version (sorry 3-finger purists :P).
ANGELINE THE BAKER
Time for some shameless self-promotion. Here is my easy peasy version of Angeline the Baker in the key of D (Yes I do have a TAB). Angeline the Baker is yet another 3 chord song. This will teach you how to play out of the key of D without having to make the full D chord at the 2nd fret (which is a challenge to many beginner banjo students).
---
SUMMING UP
Included are songs in a variety of keys like "Wildwood Flower" (typically in C), "Angeline the Baker" (usually in D). Playing in keys other than G is not difficult provided a basic arrangement is used. I believe the sooner you get familiar with the chord shapes of the other common keys, the better off you'll be as you progress.
If you learn even half of the songs on this list, you'll have repertoire that you can walk up to most bluegrass jams and play. This repertoire aids in developing skills that allow you to tackle an even more advanced repertoire. These are definitely some of the best banjo songs for beginners to start with.
Please consider my BEGINNER BANJO SONGBOOK for some easy to play songs:
Happy Learning!