Slow Banjo lessons
Here is a compilation of free banjo videos on how to play banjo on SLOW SONGS. So many bluegrass songs are fast; likewise, the instructional material tends to focus on this material; yet, what happens when the singer wants to sing on a slow tune? What happens when a fiddle player wants to play a beautiful waltz? These videos will help you know what to do.
I go over banjo techniques for both 4/4 and 3/4 time signature. The videos are aimed at the beginner banjo student; each technique works not only in backup, but lead playing as well.
Contents
---
Waltz Time
There are a lot of ballads in folk and bluegrass music that are in WALTZ TIME. Waltz time is in what's called 3/4 TIME SIGNATURE, meaning there are three beats to a measure.
In this video, I cover some of the right-hand patterns I use to accompany songs in waltz time. One of these techniques I refer to as my back and forth technique (Made famous by people like JD Crowe). The other is a simple roll that requires double thumbing. A 432123 pattern.
Click Images to Open Banjo Videos!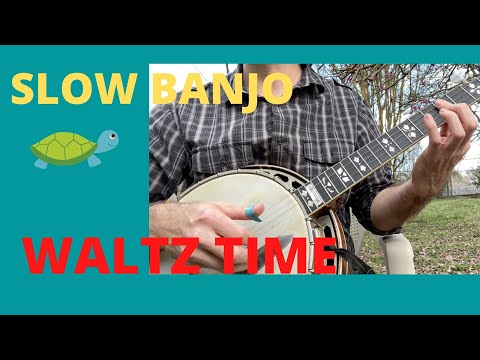 If you want some good waltzes to listen to, I recommend "Tennessee Waltz", "Roxanna's Waltz", and "Westphalia Waltz." These are all waltzes I've played at jams over the years. You can already set yourself a part from the average banjo player if you can play a waltz on a banjo.
4/4 BASIC PATTERN
In this video, I go over some basic right-hand patterns that work great over slow music. This involves plucking the first and second strings together and then the 3rd string. This is similar to what you find in the waltz time video, except this time you are filling in a 4/4 TIME SIGNATURE. You'll count 1&2&3&4&. Likewise, the right hand pattern is similar to the waltz time roll as well, you just add more notes to make up FOUR BEATS. The BANJO ROLL = 4321234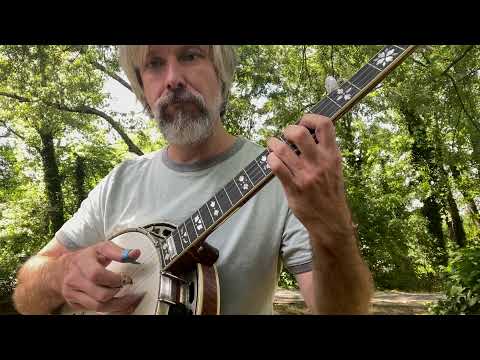 Triplets
In this video, I cover triplets. Triplets are something you'll hear JD Crowe do ALL THE TIME. I highly recommend listening to his Live in Japan albums for a lot of examples. These triplet patterns build on the right hand patterns above, you are simple trying to squeeze three hits into one beat. Allen Shelton is another person that uses this on his Crazy Arms recording. If you are having trouble with the rhythm, vocalize the word TRI-Pe-Let (Three Syllables). I recommend tapping your foot or even snapping your fingers while vocalizing the word to get the feel.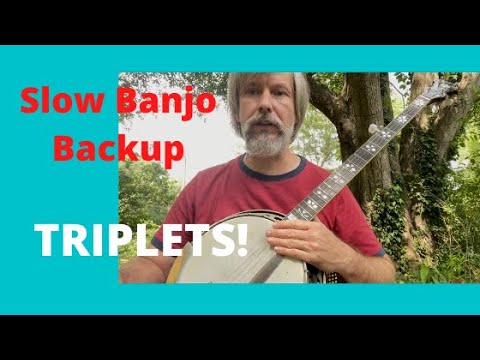 Chromaticism
In this video, I go over how to add CHROMATICISM to your slow banjo backup. Chromaticism is one of those things that goes a long way, so make sure to have balance and taste when using it.
The idea-In short, if you are going from G to A, you could through in a G# a bit before you reach the A. CHROMATICISM is used A LOT in music and backup patterns. It presents this idea of TENSION and RESOLUTION. It doesn't matter that the notes in between aren't in they key because they RESOLVE at the right time. Good music balances tension and release.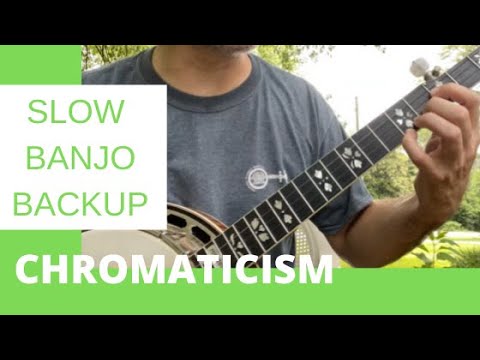 If you enjoyed these lessons, consider visiting my list (18 Slow Songs for the banjo).  It's a list of slow songs that work great for the banjo.  You can even go through the list and play backup using the ideas presented in this blog.
Also, be sure to check out the rest of my Free Banjo Lessons