E minor Banjo Licks-Free Lesson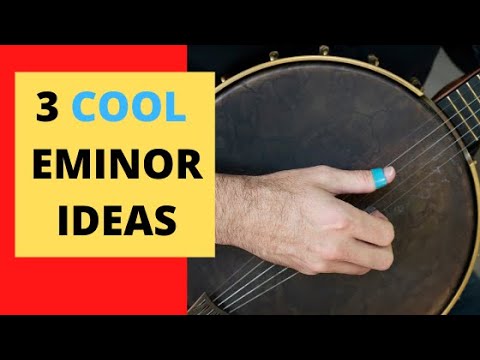 Click on Image to Watch Banjo LICK Video
So much banjo music is in the key of G and you'll encounter an E minor chord a lot. It's the most common chord in the key of G. So it's a good idea to have some a large vocabulary of licks for this chord. THESE are some COOL BANJO LICKS you can use bunches!
You can put these banjo licks to immediate use in songs like "Foggy Mountain Breakdown" or "Blackberry Blossom," basically anywhere you'll encounter an E MINOR CHORD.
Cool E minor Banjo Lick Ideas
The first lick uses the E minor position at the 7th-9th frets, but uses an A note on top, or the 4th of the chord. It also uses CHROMATICISM. I learned this from a local melodic banjo player many years ago.
The second lick, I THINK I got it from Scott Vestal, I can't remember. It uses a nice roll (5212) and moves through some E minor based chord shapes. I use this lick in "Temperance Reel" sometimes.
The third lick is something I stole from John Coltrane. See his break to "Mr PC." It is in the key of C minor, I simply transposed it to the E minor chord. This is the most difficult of the licks and I only recommend for those at a skill of intermediate and above.
Closing Notes
Remember when learning licks, you often have to modify them slightly to make them work across other songs, perhaps dropping or adding notes. Also, you want to use these licks in a BUNCH of different songs, the more you use them the more they will flow out of you. You have to get to the point that they don't sound contrived and flow effortlessly.
You can purchase the TAB to these banjo licks here:
Come support me if you enjoy what I do here, it keeps me FIRED UP for all things banjo!
Maybe you need some more minor banjo licks, but this time in the key of D minor? Well, I've got you covered. Visit my D minor banjo lick article.
Lastly, if you want to be notified of updates and new video postings, subscribe to my email list via the front page of my website here. I PROMISE you will never be spammed.